---
Resources
Art, Cuisine, Famous Italians, Festivals, Folklore, Genealogy, Holidays, Hotels, Photos, Real Estate, Sports, Travel and More
---
Guides
---
Surname Collection
Add your name to the collection.
---
Recipes
Authentic Italian recipes for you to enjoy.
---
Photo Galleries
Enjoy photos of Italy, wine making & more.
---
Proverbi
Proverbs in Italian & English.
---
Our Paesani
Weekly column dedicated to today's Italy.
by Francesca Di Meglio
---
Italian Memories
Articles on growing up Italian.
by Cookie Curci
---
Una Mamma Italiana
Articles for Italian mammas.
by Tiffany Longo
---
Learn Italian
English-Italian guides
Spanish-Italian guides.
---
Molto Italiano
Sign up for our FREE newsletter.
---
Trivia
Test your knowledge of Italy.
---
Al Pacino is an Italian American Legend
By David J. Domino

Widely considered one of the greatest actors in American history, Al Pacino has won an Oscar, two Tony Awards, and two Emmy Awards, making him one of only a handful of stars to have achieved the Triple Crown of Acting. He has also won four Golden Globe awards. Pacino is famous for playing the Italian American mobster Michael Corleone in "The Godfather" and Cuban drug lord Tony Montana in "Scarface." Although he has successfully played gangsters in many films, he has also done wonderful work playing police officers and lawyers.

He was born Alfredo James Pacino in the East Harlem neighborhood of Manhattan in 1940. His parents, Salvatore and Rose Pacino, separated when he was just a toddler. After their separation, his mother moved to the South Bronx to live with her parents, bringing little Alfredo with her. Growing up in a tough neighborhood in the South Bronx, he learned really fast to be on guard and stand his ground. His paternal grandfather was Alfio Pacino. Alfio was born in the small Sicilian town of San Fratello, which is in the province of Messina. Al's paternal grandmother was Giuseppina Latteri. Giuseppina was also from San Fratello. His maternal grandparents were Vincenzo and Caterina Gerardi. Coincidentally, they came to the U.S. from the small Sicilian town of Corleone many years before it was made famous by Mario Puzo and Francis Ford Coppola.

At age 5, his mother began taking him to see a movie every week. Before long, he would enact most of the parts he saw, while in front of a mirror at home. His favorite actors were Marlon Brando and Sal Mineo. At age 14, he saw a traveling theater perform in an old movie house in the Bronx. The actors were not spectacular, but young Al never seen anything quite like it before. His life was changed that day. His mother did all she could to encourage his interest in acting. Al truly believes that it was because of his mother that he never turned out like his friends in his neighborhood, who were primarily Italian, but some of them were Puerto Rican.

As a teenager, Pacino was known as "Sonny" to his pals. At age 15, he began smoking marijuana with friends. Fortunately, he decided to never do harder drugs after a close friend of his died of a heroin overdose. At age 17, he left home after getting into an argument with his mother and decided to drop out of high school as a senior.

After leaving home, Pacino lived with some of his friends and sometimes even slept in the streets. He saved some money while working as a busboy at an Italian restaurant in the Bronx before getting an apartment in Greenwich Village in 1960. While living in Greenwich Village, he began studying theater at HB Studio and eventually received parts in off-Broadway plays.

Pacino found acting on stage enjoyable and realized that he had a gift. After some success on stage, Pacino made his film debut in 1969 with a brief appearance in "Me, Natalie" starring Patty Duke. Although it was his next performance in the 1971 film called "The Panic in Needle Park" that set his career on the right path.

His portrayal of a heroin addict in the film caught the eye of Francis Ford Coppola, who had Pacino contacted to audition for the role of Michael Corleone for Coppola's 1972 gangster flick "The Godfather." Paramount Pictures wanted Warren Beatty to play Michael, yet Coppola wanted an unknown Italian American actor to play the part. Pacino passed the audition, even though Producer Robert Evans was concerned that Pacino's short stature would be a problem since Sonny Corleone was originally going to be played by a tall actor named Carmine Caridi, before James Caan ended up landing the role.

It was Pacino's magnificent portrayal of Michael Corleone that made him an instant star and he received his first Oscar nomination in the best supporting actor category for playing the role. The following year, he starred as NYC policeman Frank Serpico in the film "Serpico." He was also nominated for an Oscar for his performance in that film.

In 1974, Pacino did another phenomenal job playing Michael Corleone in "The Godfather Part II." He was also nominated for an Oscar for his second portrayal of Michael. Pacino became the third actor after Peter O'Toole to be nominated twice for an Oscar for portraying the same character. Newsweek magazine has described his acting in the film as "arguably cinema's greatest portrayal of the hardening of a heart." The following year, he starred in "Dog Day Afternoon" with John Cazale. He received his fourth Oscar nomination for his role in that film. The film was based on the true story of bank robber John Wojtowicz.

His next Oscar nomination came after his phenomenal performance in "And Justice For All," a 1979 film directed by Norman Jewison. Pacino received his sixth Oscar nomination for portraying the mob boss Alphonse "Big Boy" Caprice in the 1990 film Dick Tracy. He received another Oscar nomination for playing Ricky Roma in the 1992 film "Glengarry Glen Ross." That same year, he finally won an Oscar for his terrific portrayal of a blind Vietnam War veteran named Frank Slade in "Scent of a Woman." He did a fabulous portrayal of a retired lieutenant colonel in the film. To play the role, Pacino spent time with students at a school for the blind.

Despite the fact that Scorsese's 2020 film "The Irishman" was a big letdown to gangster flick aficionados, Pacino did a phenomenal job playing Jimmy Hoffa and receieved his last Oscar nomination. Although he has been nominated eight times, many moviegoers believe that he should have been nominated for his phenomenal portrayal of Benjamin Ruggiero in the 1997 gangster flick "Donnie Brasco" with Johnny Depp.

Pacino has never been married, yet was in a relationship with actress Beverly D'Angelo from 1997 until 2003. The two stars have a son and a daughter together.
| | |
| --- | --- |
| | |
| | |
Follow Us
Featured Item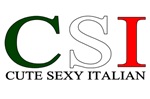 Shirts & Novelties
---
Partner Links Shops/Stores Italiansrus Gear
Proudly display the colors of Italy with these great products.

FORZIERI.com

The world largest online retailer for Premium Italian Fashions.
---
Travel